Femnista is now posting on Tumblr as Raspberry Jellyfish! Please view her more frequently updated new journal at:
http://rajefish.tumblr.com/
<3
Hello!
While they dont make any claims to improve your jumpshot or help you run faster, these new sneakers from the unlikely pairing of rapper Kanye West and fashion powerhouse Louis Vuitton will possibly increase your swagger and envy among the sneakerhead set.
Kanye cut his fashion teeth on his first shoe collaboration with Nike which resulted in the limited edition "Air Yeezy" in April of this year (they can be found online for about $100).
Moving up the fashion latter with this new collaboration, Kanye and LV are presenting three different models in low, mid, and high top styles. The sneakers just hit stores on July 1, and they are already completely sold out, despite their $700 - $1,200 price tag.
'The Mr. Hudson' is a deck shoe with laces accessorized by loafer tassels for $840. I think this style looks pretty old man-ish and as you can see from the pics, it looks awkward on the foot with or without socks.
'The Jasper' is a mid-high top with double velcro straps across the face for about $1,200. These are my least favorite of all the styles because I find them really orthopedic looking.
Finally is 'The Don', which is a low-mid sneaker available in the most colorways for about $900. This one is the best looking style because it doesnt feel as overstyled or geriatric as the other two. I approve of the pants tucking going on in the pic with the red pair.
This is my favorite colorway of The Don.
Would you pay nearly $1,000 for Kanye's new kicks?
<3 femnista
Madonna is back again for another dip into the high fashion world as the campaign model for Louis Vuitton. I think this pairing of music icon and fashion house is perfect - both have beauty, resilience, and a cult like following among their fans.
Both campaigns were shot by photographer Steven Meisel, and while in the first campaign had a gritty realism with Madonna showing off her flexibility and hard body in her role as a French coquette posing in a bistro, the second shots have a dreamlike surrealism showing Madonna relaxed and lounging in plush chairs, caressing her LV goods (the color drenched photo quality is because of solarization, an exposure technique). Which ad do you like better and why?
Madonna for Louis Vuitton - 2009
Madonna for Louis Vuitton - 2010
<3 femnista
Second of all, what's going on with all the onesies this summer? Onesie, or romper, or shorts jumpsuits - whatever you call them - I have seen them on many brave females around the city and saw at least one style in each of the stores I shopped in this weekend. The romper is a one piece most commonly used in childrens wear, sometimes called a "playsuit", and it seems that the industry has decided that now is the perfect time for grown women to be conveniently dressed for playing in the sandbox.
If you think you are up for the style challenge presented by the onesie, remember these pros and cons:
Pros
- most are easy to throw on and can be very comfortable for a casual summer day
Cons
- rompers are hard to fit - many styles have a lowered drop waist, so if you have a short torso make sure to find one with a normal waistline. Also, when it's time to use the bathroom, these garments can turn into a frustrating opponent - the straps, the zipping, the clipping - you practically have to get naked any time you have to use it!
Proceed with caution towards these approved onsie rompers: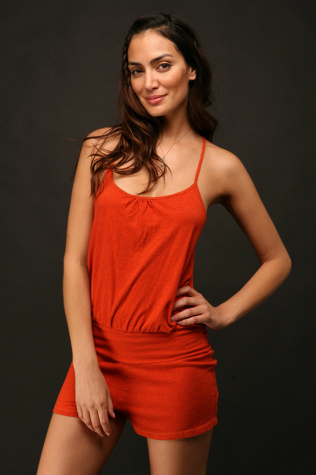 California girl - tank romper, only $30 from
Free People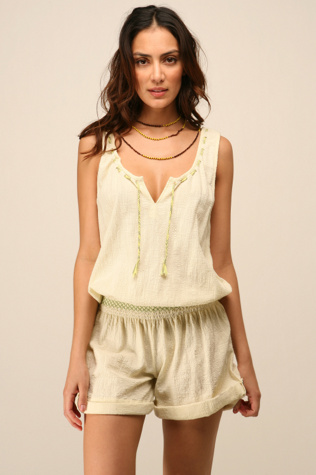 Flower Child cotton romper, only $50 from
Free People
Printed romper - great for the beach - only $23 from
Forever 21
<3 femnista
First of all, sorry to my dedicated readers for my delay in blogging new posts. Your very own Femnista is interning in the high fashion world, so sorry that that has taken me away from updating!
I especially love spring dresses and skirts. Jeans are always a staple, but it's nice to throw on a dress, slip on some sandals, and head out the door. Here's a nod to my 4 favorite Spring 09 looks:
This dress is fun and girly, and I love mixing the more polished oxfords for a sophisticated spin. This look is flattering on many body shapes as as the cinched belt defines the waist and the short A line skirt flares away from the hips, showing off your legs and keeping you cool all day.
Chickdowntown
has this adorable dress, and I am crazy about this silhouette and color combination for spring. The high waisted pencil skirt and sweet white top has been lightened for spring but somehow maintains it's sexy classicism. The favorite color combination of Coco Chanel looks effortless no matter the season.
Floral prints are obviously perfect for spring, and this light and sweet skirt is great for prancing around on a beautiful day. Check out a black and white floral skirt at a perfect price from
Forever 21.

The strapless dress is a perfect choice for a late dinner, dancing, night on the town kind of summer night. This bright organic print would flatter many body shapes and skin tones and keep you cool and sexy on into the evening.
<3
femnista
I absolutely LOVE transitioning my wardrobe from winter to spring. My closet instantly looks happier, flirtier, sexier, and ready for a good time. Winter clothes are beautiful in their layering and functioning to keep us warm, but spring and summer clothes? It's all about the skin, the shape, and the fun of fashion.
Current Location:

the moon

Current Mood:

awake
Here is my list of 5 awesome red carpet dress-makes-the-woman moments (in no particular order).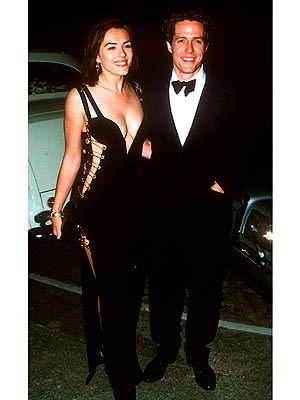 In 1994 a unknown model named Elizabeth Hurley joined her boyfriend at his movie premier, wearing a Versace black dress that left very little to the imagination. The barely held together gown and the perfect form underneath made quite a splash and catapulted Hurley into the starlight. Later, Hugh would famously cheat on her with a hooker, but for that night, she was the only woman anyone saw.
That dress...that dress...the sheer plunging Versace sheath that a dancer named Jennifer Lopez wore to the Grammy's in 2000 launched her to A list actress, singer, designer, perfumerer, etc. Most people were just watching to see if one of her boobs would escape, but she pulled the look off with more elegance than a debutante. Fun fact: this was one of the first instances of the true red carpet miracle that is double stick tape.
Hey, they cant all be winners...Bjork wore this dress of a swan draped around her body at the 2001 Oscars which was designed by Marjan Pejoski and panned by everyone. The Islandic singer was plastered on every worst dress list around, but the dress guaranteed people would never forget her (any press is good press, so work it).
A princess gown for a princess night! Ralph Lauren is responsible for this all American dress that Gwyenth Paltrow wore when accepting her Oscar in 99, and it was easy to see why Shakespeare would make her the lead in his love story.
Yes, so she was technically already a big star before this moment, but the "Garden of Eden" Elie Saab dress on the night of winning her Oscar in 2002 only helped Halle Berry's status as American fantasy and sweetheart wrapped in one. She's sobbing and snotting and still gorgeous in a gown that not many women but her could pull off like a born star.
<3
femnista
Is it the dress or the body in the dress that makes an amazing red carpet moment? It's definitely a combination of both that creates an unforgettable spectacle that forces bulbs to flash, jaws to drop around the world, and has the power to turn a woman into a star.
There's something bewitching about a woman who is done with saying the "right" thing, looking the "right" way, and could at any moment either stumble into oblivion or ecstasy.
Anne's transfixing disarray reminded me of Angelina Jolie's performance in 'Girl Interrupted'. Jolie was physically unkempt, manically unbalanced, and surprisingly sexual as a mental patient bent on breaking every rule on her way to ruin.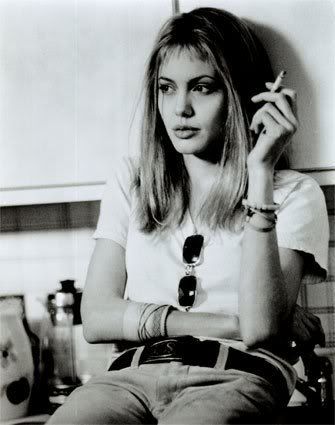 But remember, as you look at the ashes and dismiss them as trash, any moment, the phoenix will arise and leave you breathless.
-femnista
I was watching 'Rachel Getting Married' (highly recommend it...so truthful about relationships; 'Closer' but with family) and I couldn't help but think that there was something enigmatically beautiful about Anne Hathaway's appearance in that film. The choppy cut - as if she got tired of looking and being treated like a princess so she hacked off her ponytail with a pair of scissors - the heavy black eyeliner - emo, yes, but it also says "look me in the eye!" - and the sometimes cheerfully vintage, sometimes slapped together grunge inspired outfits that say "I'm trying, but not that much" are all delicious elements that inform the viewer that this girl is on the verge.
OSCAR NIGHT!!!!
My thoughts of the Best and Worst dressed of the night:

BEST DRESSED COUPLE

Duh, it has to go to the freakishly gorgeous Brangelina...seriously, I just like looking at them. You know you do too. Jolie is wearing a sweeping Elie Saab sweetheart bodice gown in her signature, black. LOVE the pop of emerald green jewelry by Lorraine Schwartz (a bit of kryptonite to keep Jen away, perhaps??). Now that that's out of the way, I'll let you take in their genetic perfection below.




BEST 'WOW'

Marissa Tomei, I didnt know you had such fierceness in you! Damn! Here she is looking beyond stunning in Versace...every inch of this gown is gorgeous, from the single shoulder to the layered strips of the train. Marissa, even though you didnt take home Mr. Oscar, you win my Wow - now that's how you rock the red carpet - award.





BEST BAD-ASS

Mickey Rourke, even though your face looks super effed up from boxing and bad plastic surgery, you have the swagger and confidence of a bad ass mutha (shut yo mouf!). I love how you just dont care how you are 'suppose' to dress in a black tux for the Academy Awards...I love that you love your recently departed dog so much you are rocking a necklace dedicated to him....I even love that you somehow cant seem to take your hand out of your pants even for a picture. Love It, Mr. Bad Ass, Love It.




WORST OVERDONE LOOK

Miley Cyrus, I commend you for looking like a cute teen, not a sexpot, but this Zuhair Murad dress has just too too much going on. I think this dress could be split down and made into three different dresses that would each be a better option for Ms Cyrus to wear. Oh! Maybe she wore such an overdone dress because of her multiple personalities? (Miley, Hannah)? Ok, now im just rationalizing it, but take away the belt and two or three of the top layers of the tiered skirt, and I think this dress might have worked and not seemed so overwhelmingly heavy to the eye.





WORST DRESS ON A TRUE HOTTIE

Marion Cotillard is so beautiful and sexy and talented, but in this tulle and sequins catastrophe by Dior, she just looks like a goth girl trying to fit in with the popular crowd at the prom. Sorry babe, but thumbs down.




WORST...WELL, IT'S JUST BAD...

Ok Tilda Swinton, I know you arent into the typical formal gown look, and that's ok. I have supported your androgynous futuristic forays into fashion because they always worked on you. But this?! I'm just angry at you, Tilda. What the hell is this look? There's so much bad I dont even know where to start. Are you hiding a beer belly under that shirt? Why is there a droopy bow right on your crotch? Take note of a red carpet NO NO NO! in action, courtesy of Lanvin.


<3
femnista
Current Location:

the moon

Current Mood:

blah
I kissed a girl and I liked it!
) to her fashion choices. Her red carpet style ranges from pinup girl to quirky glam (check out the dress with eyes on the bust!) and she always shows off her amazing curves. I love that no matter how out there her look is, she has the confidence and charm that makes copying her fashion style impossible.
Here's Katy at the 08 MTV Europe Music Awards - I'm not a huge fan of this dress; the fitted silk charmeuse makes her tummy look swollen (and we know how annoying pregnancy rumors can be in hollywood) and the cupcake purse is cute for a 6 year old but is definitely out of place with the rest of the outfit...but if the point of this dress was to be noticed and to draw attention to her rack, Katy succeeded admirably.
Speaking of things a 6 year old would love, here is Katy at this year's Brit Awards in a Hello Kitty corset top (designed by The Blonds), liquid leggings, and gladiator sandals. I'm not a fan of leggings paired with any top that doesn't cover the crotch (lets give the camel toe police a day off, ok?), and I get where she's going with this tough but sweet look...and I really love Hello Kitty and
want
to love this outfit, but it's kinda like a car accident - it looks worse the longer you look at it.
Ok, I've been dissing her, so here is a Katy Perry look that I have nothing bad to say about.
I. Love. It.
Head to shiny lavender clad toe. I, in fact, would wear this exact outfit...where you ask? I dont know...walking in the park like a princess of perfection? Sure, as long as the commoners keep a respectful distance away (like past the fence and hidden behind the trees in this pic).
<3
femnista
Katy Perry definitely embraces her sexuality and femininity and it shows from her song lyrics (
Now here's an SAT style analogy for you:
HUMMER:VEHICLE, GOYARD:LUGGAGE

Goyard is a historic french trunk-maker that was founded a year before Louis Vuitton and today sells luggage, trunks, handbags, wallets, and even doggie bowls and collars for the most discerning of customers. While their rival has the iconic 'LV' emblem, Goyard's signature is an interlocking chevron print which is hand painted on a canvas made of cotton, linen, and hemp. Their well crafted trunks and suitcases were once a staple among European royalty, maharajahs, and wealthy aristocrats, and now their handbags are in high demand by those in the know. This company has retained their exclusivity in modern day by being available in only 11 upscale retailers world wide, but even with prices around $800 for a wallet and well over $1K for a handbag, status seeking bagnistas are getting their hands on this brand.



Here is Nicky Hilton sporting the Goyard 'Saint Louis' bag in black with customizable stripes and monogramming.



While I'm not willing to go into debt for it, I think this Goyard 'Jeanne' (inspired by a hatbox's shape) looks cute in orange starring on the arm of Rodarte designer, Laura Mulleavy.

Maybe if we werent in a recession...and I won the lottery...but I think even then I'd prefer the tried and true durability of leather over canvas, but I admit there is something swanky about these effortlessly chic bags.

-femnista
I remember years back when Hummers started popping up around Ohio and I just thought, "That seems like a lot of money for an extremely impractical vehicle for this setting...I dont think they'll take off". Boy was I wrong, as we are on our third incarnation of the urban hummer (H3!), and I realized that for many Americans, the attraction of owning a Hummer is that it is a status symbol.
Current Location:

the moon

Current Mood:

awake